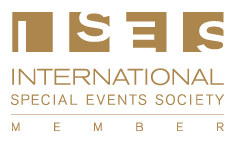 Three ISES Awards have been received by Olivera Music Entertainment, and OME is the only Washington, DC area music entertainment agency to have received three International Special Events Society ISES Capital Awards for Best Entertainment Production.  These awards were for:
2010     "Evening @ The Hotel California"
2009     "An Addams Family Christmas"
2006     "The President's Dance"
Each year, numerous event submissions are evaluated by an another ISES chapter.  Nominations are narrowed to four or less per category.
In addition to the award-winning events listed above, Olivera Music Entertainment has received additional nominations as follows:
2010     "EMA – Unmasked/Unveiled", Best ISES Team
2010     "EMA – Unmasked/Unveiled", Best Entertainment Production
2002     "Celebrate Your True Colors", Best ISES Team
2001     "Totally Tubular", Best ISES Team
ISES was founded in 1987, and the Washington DC Capital Area ISES chapter was founded in 1988.  Today, the DC chapter is the largest chapter in the world, with over 300 local members.  ISES has over 6,000 members worldwide in 50 chapters.  Olivera Music Entertainment has been a member of the DC ISES Chapter since 1992.
The mission of ISES is to educate, advance and promote the special events industry and its network of professionals along with related industries.  To that end, we strive to:
*  Uphold the integrity of the special events profession to the general public through our "Principles of Professional Conduct and Ethics".
*  Acquire and disseminate useful business information.
*  Foster a spirit of cooperation among its members and other special events professionals.
*  Cultivate high standards of business practices.
ISES "Principles of Professional Conduct and Ethics"
*  Promote and encourage the highest level of ethics within the profession of the special events industry while maintaining the highest standards of professional conduct.
*  Strive for excellence in all aspects of our profession by performing consistently at or above acceptable industry standards.
*  Use only legal and ethical means in all industry negotiations and activities.
*  Protect the public against fraud and unfair practices, and promote all practices which bring respect and credit to the profession.
*  Provide truthful and accurate information with respect to the performance of duties.  Use a written contract clearly stating all charges, services, products, performance expectations and other essential information.
*  Maintain industry accepted standards of safety and sanitation.
*  Maintain adequate and appropriate insurance coverage for all business activities.
*  Commit to increase professional growth and knowledge, to attend educational programs and to personally contribute expertise to meetings and journals.
*  Strive to cooperate with colleagues, suppliers, employees, employers and all persons supervised, in order to provide the highest quality service at every level.
*  Subscribe to the ISES Principles of Professional Conduct and Ethics, and abide by the ISES Bylaws and Policies.
This code is a reason why you should hire an ISES member for your next special event!