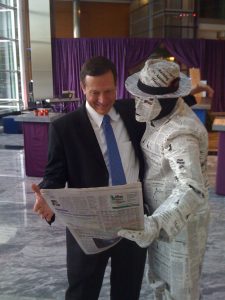 Olivera Music Entertainment is thrilled to announce we are the recipient of a International Live Events Association, ILEA Esprit Award 2013 for 'Best ILEA Team Effort, Budget over $200,000'.   This internationally recognized awards ceremony draws entries from the 52 ILEA chapters around the world.  The ceremony took place at the Atlantis in the Bahamas.
The event was entitled the 'Did you hear the news? Gala', and was held at the USA Today/Gannett building in McLean, Virginia.  The team included 12 ILEA DC chapter members, covering  all aspects of the event:  music, event planning, decor, sound, photography, transportation, event furnishings, valet, lighting, draping, plants, bartending, place settings, and multi-media.  Kevin Olivera was Entertainment Chair for the following music entertainment production:
Arrival – "Swing Dixie" 6-pc. band
VIP Reception – Jazz Duo
Full Reception – Jazz Quartet and a Newspaper Man Statue
Awards Ceremony – Solo Harpist, Awards Ceremony MC, Baseball Bat Violinist
Dinner – "Pop Culture Strings" 4-pc.
Dancing – "Amaretto" 9-pc. band, and a Handwriting Analyst
The planning for the Gala began nine months prior to the event.  Multiple site visits and a tech rehearsal were crucial.  Communication with all team members was crucial to ensure each company's plan was in synch with all other team members.
The International Live Events Association was founded in 1987 to foster enlightened performance through education while promoting ethical conduct.  ILEA works to join event and meeting professionals to focus on the "event as a whole" rather than its individual parts. ILEA has grown to involve over 5,500 members active in 52 chapters throughout the world. The solid peer network ILEA provides helps special events professionals produce outstanding results for clients while establishing positive working relationships with other event colleagues.
For over 25 years ILEA has been a valued and trusted partner in the events industry. An industry that generates over $200 billion for the global economy and supports over four million jobs.
ILEA members are regarded as the very best in what they do, creating a powerful and influential community of event professionals around the world, working together to find new ways to communicate through the power of live events.  As the association continues to expand and engage, reaching new audiences and markets around the globe, so the ILEA brand continues to evolve.